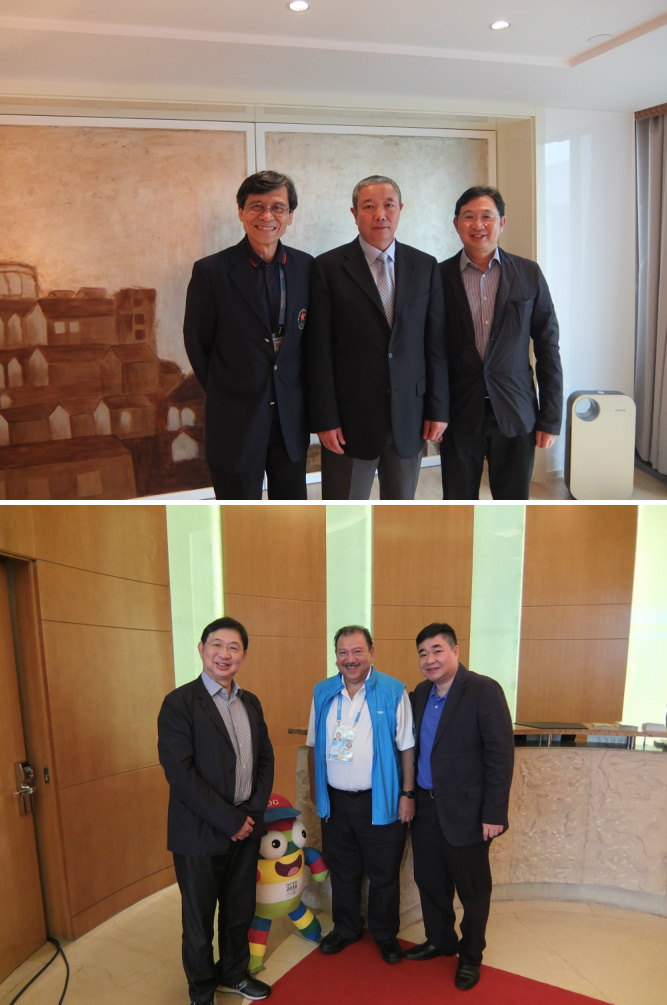 Mr David Mui, MH, JP, President of Asian Squash Federation, joined by Mr Tony Choi, Coaching Director of Asian Squash Federation, were honored to meet with key officials of the International Olympic Committee ("IOC") on 18 August in Nanjing, China making effort to lobby for support for squash to be included in the Olympic Games. The IOC will review the entire competition programme for the 2020 Olympic Games by the end of 2014 to see if new sports would be given opportunity to join in.

In the meetings, Mr Yu Zaiqing, Vice President of the IOC Executive Board from China and HRH Prince Tunku Imran, IOC Member from Malaysia, expressed their full support for squash and both of them feel positive for squash to becoming a competition sport in the 2020 Olympic Games if opportunity exists. Mr Mui thanked Mr Yu and Tunku Imran for their precious time and presence at the meeting.

Special thanks also go to Mr Pang Chung, SBS, Hon. Secretary General of the Sports Federation and Olympic Committee of Hong Kong, China who arranged the fruitful meetings.
Upper photo, left to right:
Mr Pang Chung, SBS; Mr Yu Zaiqing; Mr David Mui, MH, JP

Lower photo, left to right:
Mr David Mui, MH, JP; HRH Prince Tunku Imran; Mr Tony Choi
/ read more news